Porta Potty Rental, Portable Fence Rentals, VIP Restroom Trailer for Rent in Wentzville, MO
Welcome to Wentzville Porta Potty & Temporary Fence. We are a local rental company providing portable toilet rentals, temporary fencing rentals, luxury restroom trailer rentals, shower trailer rental, & mobile hand washing stations for customers in Wentzville, St. Peters, O'Fallon, Warrenton, Troy, Flint Hill and the surrounding areas in Missouri. Whether you need a couple of portable toilets for your church event, a large number of porta potties and temporary fencing for a concert, fair, or carnival, a long-term porta potty rental and portable fence for a construction site, a VIP restroom trailer for your wedding or something else we are here to help! At Wentzville Porta Potty & Temporary Fence our top priority is customer service. We will make sure your portable restroom is clean, sanitized and ready to use and serviced weekly, and that your temporary fence is stable and secure in order to provide your venue security and crowd management.
RENTAL COMPANY IN WENTZVILLE THAT CAN MEET YOUR NEEDS, LARGE OR SMALL
Whether you need 100 portable toilets or just one, Wentzville Porta Potty & Temporary Fence can take care of your needs. Our clients span from individuals to small businesses to cities, municipalities, and large commercial organizations. We have the inventory and manpower to supply as much temporary fencing or as many portable bathrooms, shower trailers, heated porta potties, air conditioned portable toilets or temporary hand washing stations you might need.
Portable Toilets, Temporary Fences, Luxury Bathroom Trailers
Temporary Bathroom & Removable Fencing Solutions in Wentzville, MO
At Wentzville Porta Potty & Temporary Fence the rental process is quick and easy. Simply fill out the Request Service form on this website or give us a call, tell us what you need and for how long, we'll agree on a price, then we'll deliver your products to you and set them up, hassle free. If you're renting a portable toilet for longer than a week, weekly sanitation services are provided as well. We want to make sure your portable restrooms are clean and ready to use when you need them, and will work hard to ensure your portable toilet rental and temporary fence rental meets all your needs to your complete satisfaction.
Wentzville Porta Potty & Temporary Fence is the best portable toilet supplier in Wentzville, MO. Whether you need a single portable toilet for a day, a large number of porta potties for a large event, or long term use of a couple of porta johns for a construction site, city park, sports venue or something else we would love to help! Our portable toilet prices are competitive, and our customer service is top notch! Contact us for Portable Toilet Services in Wentzville, Wright City, Troy, O'Fallon, Lake St. Louis and the surrounding areas in Missouri.
Do you need a temporary fence for your event, to secure your construction site, to help with crowd control for a concert, parade, or to provide your space with privacy? Wentzville Porta Potty & Temporary Fence can provide you with a temporary barrier that can help with a variety of applications. Our temporary fencing is sturdy, high quality, and designed to meet a variety of applications and temporary fencing needs.
Our VIP Restroom Trailers are popular rentals for weddings, corporate events, and construction sites. Luxury Restroom Trailers provide all the comforts of home inside a portable restroom that's heated, cooled, and flushable. If you're looking for a portable toilet solution but need something nicer than the standard blue boy porta john, we will provide you with a VIP restroom trailer that will meet all of your needs.
Hosting an event or project that requires on-site portable showers? Wentzville Porta Potty & Temporary Fence provides high quality shower trailers for customers in Wentzville, MO and the surrounding areas. Contact us today and ask about our portable showering solutions, and we will take care of your with our high end luxury shower trailers.
Portable hand washing stations are often paired with our portable toilet rentals in order to provide quick access to hand sanitization as needed. We recommend customers hosting large event also rent portable hand sanitization stations to make sure their guests feel fresh and clean after using the facilities.
Laundry trailers provide you with complete laundry services for your jobsite. Fully functioning washers and dryers contained in a portable trailer.
Portable Toilet Supplier Near Me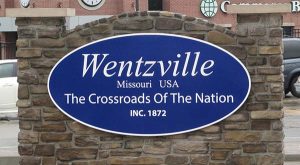 Wentzville, MO is home to Wentzville Porta Potty & Temporary Fence. Wentzville is a well known suburb of St. Louis, MO that is located in Saint Charles County. Wentzville is one of the fastest growing cities in Missouri, and is situated right off of I-70. Wentzville is home to Wentzville Holt High School, Timberland High School, Rotary Park, and the Wentzville Assembly plant for General Motors.