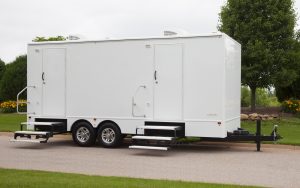 Shower Trailer Rental Wentzville MO
Do you need a portable shower trailer? Wentzville Portable Toilet & Temporary Fence Rental can meet your needs with excellent portable showers at competitive prices. Our portable shower trailers come in sizes as large as 8 station units for commercial application. If you need on-site shower facilities for your employees or guests, please give us a call today and we'll get you set up.
Portable shower facilities are great for disaster relief camps, jobsites, and other applications. If we can help you with a portable shower rental in Wentzville, Lake St. Louis, Flint Hill, Wright City, Warrenton or the surrounding areas, please give us a call at 636-389-4241.
Portable Shower for Rent Warrenton, Wright City, Lake St. Louis