VIP Restroom Trailer Rental
Restroom Trailers, Flushable Portable Toilets, Climate Controlled Portable Restroom Trailer | Wentzville, MO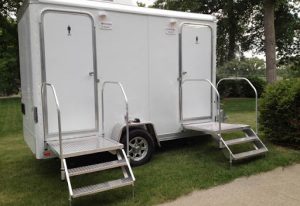 Luxury Restroom Trailers in Wentzville, MO
Do you need a portable restroom for an event, but you'd like something nicer than a portable toilet? We often get requests from customers seeking a portable bathroom solution for their wedding, corporate event, or bathroom facilities for their VIPs that bring all the comforts of home in the form of a portable toilet.
Wentzville Portable Toilet & Temporary Fence Rental provides excellent, luxurious portable restroom trailers that can meet all your needs. Our VIP restroom trailers come in a variety of sizes and have a number of applications.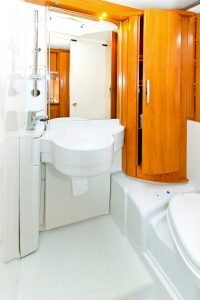 Flushable Portable Bathroom Trailer Lake St. Louis, Flint Hill, Wright City
Whether you need a restroom trailer for you wedding or other event in Missouri, we hope you'll give us a call. Our luxury restroom trailers are clean, fully climate controlled, and feature working lights, sinks, and flushable portable toilets. Your guests will feel like they're using the facilities and home, and the ability to clean up in the working sink after using the facility will leave your guests feeling fresh and clean.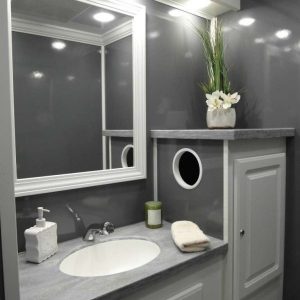 Bathroom Trailer for Weddings, Construction Sites, Corporate Events, Festivals, Concerts
Our restroom trailers are built according to the latest designs and modern comforts. Our VIP restroom trailers are the luxury option for portable bathroom facilities for your wedding, construction site, industrial application, sports event, festival, concert, party, or disaster relief workers.
Do you need a restroom trailer in Wentzville, MO or the surrounding areas? We deliver our products all over Saint Charles County, and would be happy to serve you today. If we can help you with a VIP restroom trailer, please give us a call or fill out the Service Request form on this website. We look forward to hearing from you!